There is no denying that digital innovation has transformed the digital world in countless ways. And when it comes to digital transformation, one cannot neglect the importance of social media. Social media plays a crucial role in digital marketing strategies to boost the company's online presence and an online social media marketing agency can help you effectively reach out to your target audience online.
Regardless of the size of your business, social media platforms help you connect with your audience, increase brand awareness among your customers, and boost your sales and leads. Today, more than three billion people worldwide use social media to improve user engagements on major platforms significantly.
For establishing your brand's identity among your rivals, LinkedIn is one of the most valuable social media platforms. Serving as an essential resource of networking and business growth, LinkedIn is more than just representing yourself with an online resume. The platform boasts 433 million members and serves as a means of communicating your brand to the world. Unlike Twitter, Facebook, or Instagram,
LinkedIn is a market-oriented website that emerges as an effective business-building tool and hiring the best social media marketing consultant would help you get the most out of your LinkedIn marketing efforts.
Everything on your LinkedIn profile must contribute towards your overall brand, providing extensive information about who you are and what you specialize in. To help you build a structured profile, here are ten essential formulas that will boost your LinkedIn presence in 2021.
Top Tips To Boost Your LinkedIn Presence
1. Post regularly, but not excessively: Talking about the analytical facts – users who post on LinkedIn more than 50 times per month get an average of 26 engagements per post. On the contrary, influencers who post 30-50 times per month might receive 56 interactions. And, for those posting less than 30 times per month, their engagement is even more.
While operating a LinkedIn profile, you must maintain a consistent posting process. However, keep in mind that posting too frequently can harm your presence. You can understand your audience's behavior, as this will help you in creating a posting strategy. Try to post in the mornings so that you can go back to those posts later in the evening and respond to any comment.
2. Segregate video and visual content: Posts containing a photo receive 94 percent more views than other conventional postings. You can post slides, podcasts in an article, videos, documents in your post. These features were introduced by LinkedIn 2019, wherein the platform converts documents into carousel posts by uploading a set of visuals as a document.
LinkedIn allows users to upload directly to their website instead of posting a link to another site that hosts it. For instance, if you want to share a link to your brand's YouTube video, you can post the video directly on LinkedIn instead of posting an external link.
3. Avoid excessive automation: Undeniably, automation can save your time and effort, but it can even hamper your visibility. As previously mentioned that posting too much might not provide you with better engagement. Similarly, LinkedIn can detect when people are using automation for posting on their profile. The system then masks your posts, and no one can see them. Even if you are using LinkedIn automation software, ensure that your posts are not more than 30 per month.
4. Think apart from your business: Standing out from the crowd on a social media platform is challenging. But, if you are following the right tactics, then you can distinguish yourself from your competitors.
While sharing your content on LinkedIn, do not forget to add some valuable insights written by others that might be helpful to your audience. This may include some vital news trends or some impactful thoughts from prominent business leaders. You can even add your thoughts, questions, and polls to the comment section. By doing so, you can break the ice and start a discussion, resulting in increased engagement with the post.
5. Don't be salesy: Advertising your brand and services is necessary for increasing your presence on LinkedIn but make sure that you don't want to promote yourself or your services in your posts blatantly.
Try not to post regularly about your product or services as it might look like an advertisement and would turn down potential customers. You can engage in thought leadership-style discussions to make people visit your website and explore what you have to offer. Remember, while building your LinkedIn presence is all about developing new relationships and making connections.
6. Generate LinkedIn-specific content: When you create a new post, you can be tempted to post it on all your social media platforms, including Facebook, Twitter, or Instagram. But, keep in mind that you might have some of the same followers on all your social media platforms, and they might get bored by seeing a similar post on every forum. Ensure that you are generating LinkedIn-specific content that can catch your audience's attention in one go.
It is imperative that your social media pages stay relevant and up-to-date with the latest trends. And this is where Propel Guru, a leading online social media marketing agency, comes into the spotlight to take your LinkedIn marketing goals to a higher level and boost your LinkedIn presence like never before.
7. Try live streaming: According to 79 percent of advertisers, live streaming leads to more genuine viewer interactions, and 82 percent of people would rather watch a brand's live video than read a social post.
In comparison with standard video uploads, LinkedIn live videos receive 7X more reactions and 24X more comments on average. Real-time live streaming is nowadays appreciated amongst the audience. While you are building your LinkedIn presence, you can host a webinar with an expert panel or video stream from an event that might benefit your followers.
8. Tag influencers and employees: Tagging another user in LinkedIn can increase engagement. You do not have to be directly related to the person you name; you can even tag people who are second-degree relatives. However, make sure that you are only tagging people who apply to the post; otherwise, it may be constructed as spam. Also, be selective about who you list and not over mention the same people all the time. Not just this, you must keep in mind that you are not tagging too many people in the post because a long list of names seems spammy.
9. Include hashtags: Using hashtags in your posts will distinguish your content and categorize your post in LinkedIn. It is necessary to include necessary hashtags in your post because only your audience will recognize them.
When hashtags are used correctly, your post appears as one of the choices for information on a piece of subject. It is recommended to use hashtags that have a large no. of followers.
10. Analyze the content and make adjustments based on analytics: Analytics play a significant role in deciding your social media presence. It will provide you with real-time data and will allow you to understand what your audience likes and dislikes. It becomes easier to optimize your post with a detailed analytics report and engage the right audience effectively. With this, you can easily make changes in your content and post according to your audience requirements.
Conclusion
With almost every business being run remotely, the new era of social media platforms allows brands to rebuild their engagements. LinkedIn is continuing to grow and is increasing as a powerful forum. Using these tips for enhancing the LinkedIn presence will bring new opportunities for those who are beginning to develop their brand's identity. Therefore, to get the most out of your LinkedIn profile, it is crucial to make it as compelling and comprehensive for more reach as possible.
If you are looking to get highly relevant, researched, professionally written content for your social media profiles, it's time to contact Propel Guru, the best online social media marketing agency. We at Propel Guru can help you build brand awareness, increase search exposure, and attract top-of-funnel visitors to your LinkedIn Profile with creative posts created by our experienced in-house team of social media marketing consultants.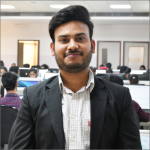 Senior Project Delivery Manager
A passionate and enthusiastic senior digital marketing and sales specialist who is highly proficient in planning, implementing, managing the entire business-to-business sales and marketing process for selling the company's advertising products and services. Having rich expertise and in-depth domain knowledge in the field of both sales and digital marketing, he ensures that he has a confident and winning attitude even during challenging business interactions.