Undoubtedly, YouTube is one of the most admired video platforms. Its popularity has exploded over the years as it makes it easier for content creators to share their content with a large audience. Therefore, working with the online social media marketing agency can help you make the most out of YouTube marketing to reach more audiences and grow your business online.
Whether it is different beauty tutorials, gaming channels, product reviews, cooking videos, unboxing videos, series — YouTube has something for everyone to entertain and educate. YouTube gained much popularity and grew large audiences in 2020 as the environment shifted in unprecedented ways, with people spending more time at home and in front of screens. Are you planning to build your YouTube channel from scratch, provide some engaging content to your audience, and make money? Growing and maintaining a YouTube channel is always a big challenge, but social media marketing consultants at Propel guru can help you get the right and engaging content in front of the target audience with a brand-oriented YouTube marketing strategy.
In this blog post, we've compiled a list of 25 YouTube facts and figures to help you strengthen your marketing strategy in 2021 and boost your business growth.
Let's dive in.
1. World's Second-Most-Visited Website
Owned by Google, YouTube drives more traffic and is the second most visited website globally. Therefore, YouTube is most frequently accessed by the audience for everything from entertainment to how-to tutorials.
2. Over 2 Billion Monthly Users
To be more specific about this data, there are 2.3 billion users of YouTube. There are people with a Google account who log in at least once a month. Also, the number of users keeps on increasing every day. Given that a Google account is not always needed to view YouTube videos, these figures may be higher.
3. Most Trusted Search Engine For Video Content
Showcasing the importance of SEO, YouTube has become the second-largest search engine after Google. YouTube's search rate is greater than that of Bing, Yahoo, AOL, and Ask.com combined, with billions of searches each month.
4. Used By Majority Of Marketers
YouTube is the most commonly used video platform for video marketing. According to the Social Media Examiner's 2020 Industry Report, YouTube is used by 55 percent of advertisers, making it the most widely used video channel for video marketing. By posting regularly, marketers will be able to grow their brand.
5. Localized And Available As Per The Audience
YouTube provides content in almost 80 languages covering 100 countries. It occupies 95% of the worldwide internet population. With this amazing feature, it becomes easier for the user to reach a wide variety of demographics and languages.
6. People Watch Videos Every Day
With 1 billion watch hours per day, YouTube has a vast user base that is a devoted one at the same time. Marketers can leverage the power of video and provide their content according to their audience's likes and dislikes.
7. Over 500 Hours Of Video Content Upload
Every minute, over 500 hours of videos are uploaded on YouTube. With the amount of new content being uploaded on YouTube every minute, business owners cannot afford to ignore this platform. So, focus on keywords, create an eye-catching title and description of the video, and use appropriate hashtags.
8. Users Prefer Watching Content On Mobile
Try to ensure your video content is compatible with mobile devices. People watch more than 70% of YouTube videos on their mobile phones. As a result, make sure that your videos do not contain any difficult-to-read text and users with smaller screens are getting an enhanced experience.
9. A Part Of Marketing Strategy Of 89 Percent Marketers
It's essential to stay on top of what other marketers in your industry are doing, and the statistics prove that videos will remain a big focus. Notably, for the year 2021, 9 out of 10 marketers plan to incorporate YouTube in their video marketing strategy.
10. Large Active Audience
YouTube is visited by 62 percent of the users daily and 92 percent of the users weekly. Almost everybody watches video content at least once a month. If you spend the time to create valuable video material, you will find a loyal audience with this level of interaction and return viewership.
11. Incredible Content For Children
81 percent of parents with children under the age of 11 encourage their kids to watch YouTube videos. It provides marketers with an opportunity to develop advertisements and marketing material specifically for children and families. For instance, Baby Shark Dance is the most viewed video on YouTube, with over 7 billion views, indicating children's interest in the platform.
12. Popular Social Media Channel In US
YouTube is the most popular social media site among adults in the United States. The app has 73 percent active users, which is higher than most "traditional" social networks. YouTube is a dominating social media platform, and marketers can grab this opportunity by creating videos that would suffice people above the age of 18.
13. Abundance Of How-To-Do Tutorials
When performing a task, 91 percent of smartphone users consult their smartphones for inspiration. We've all watched those "how-to" tutorials. Those views have resulted in millions of watch time on YouTube. So, this information can be precious for marketers.
14. Presence Of 50.9 Percent Of B2B Marketers
YouTube is ahead of Facebook and LinkedIn, which are the most common social networks. You will meet top decision-makers on YouTube if you're selling to other companies.
15. Ads Influence 70 Percent Of Viewers
Advertisements on YouTube are a great way to target your audience. According to a report, it is proven that people watch YouTube ads and skip less. Here, marketers can promote their services by playing ads before a video and target their customers.
16. 16.5 Percent Web Traffic From US Accounts
The US ranks first in bringing YouTube's website traffic at 16.5 percent. India and Japan, with 9.3 percent and 4.9 percent, hold second and third place, respectively. The video app is used by 77 percent of 15- to 35-year-olds in the United States.
17. Influencers Bring 60 Percent Of Views
In 2021, the power of influencers cannot be neglected. Netizens tend to build a virtual connection with their influencers, which brings more watch time on YouTube. Marketers can even get in touch with some prominent influencers and make them the face of their brand.
18. Videos Help People Buy
As per a report, before buying anything, people watch a YouTube tutorial or unboxing video. It increases the views on that specific video. 70 percent of people say that they watch YouTube before making a purchase.
19. 81 Percent Watch Recommended Videos
According to YouTube's sidebar suggestions, approximately 4 out of 5 users view recommended videos. It means you can refine your content and use YouTube hashtags to ensure that the site understands your videos' topics and is more likely to recommend them.
20. Over 37 Million Channels
YouTube has 37 million channels, which can cater to audiences of different age groups. 100,000 people have subscribed to 230,000 YouTube channels, 22,000 YouTube channels have attracted 1 million subscribers, and lastly, 700 YouTube channels have more than 10 million subscribers.
21. 134 Million Subscribers On The Most Famous Channel
The Indian music network T-Series is the most subscribed channel on YouTube with 134 million subscribers. YouTube Movies, Music, PewDiePie, and Cocomelon – Nursery Rhymes lie next to T-Series in the race.
22. Vast And Genuine Content
65 percent of YouTube users claim that they feel as if they live what they are seeing while watching a video. Undoubtedly, it is necessary to make people feel linked to their interests, hobbies, and daily life activities after a year in a global pandemic.
23. Ryan ToysReview Is The Most Paid Channel
Becoming the highest-grossing channel on YouTube, Ryan ToysReview, annual revenue is $ 29.5 million. Further, Mr. Beast is the second-highest-paid YouTube channel, with a gain of $ 24 million.
24. Decrease In The Number Of Customer Service Calls
According to 43 percent of marketers, YouTube videos have decreased the number of customer care calls. With different content available on the platform, it is much easier to watch a short video about a product or service than to use the support to know about all the information.
25. Users Check 9 Pages Per Day
While watching a video on YouTube, people not only stick to single videos. They keep on searching for different content on different channels. On average, a person clicks on 9 nine pages a day. It, therefore, increases YouTube's usage time and even provides views to the videos.
Conclusion
YouTube provides countless marketing opportunities to help businesses establish their brand presence through interactive and knowledge-packed videos that result in gaining more followers. The obvious reason behind the YouTube platform is that YouTube is one of the most cost-effective online marketing channels that help you reach a vast audience. Using YouTube marketing for your business can boost your marketing strategy and do wonders for your brand. If you are looking to improve your brand online presence, hiring an online social media marketing agency for your business can accelerate the growth of your business and achieve desired results.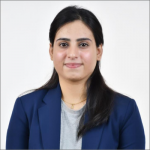 Digital Marketing Specialist
A self-motivated and passionate Digital Marketing Specialist who has a passion for learning more and unraveling the new digital marketing techniques. By communicating conscientiously to a team of differentiated specialists, she possesses excellent leadership skills. She is a collaborative individual who values the talent of those around her and knows how to enhance the work of others with a scope of improvement. She is a persistent problem solver who takes failures as an opportunity to grow.