Today, people are snapping a lot of portraits, ranging from selfies to headshots, or even group pictures, though their popularity has grown a bit down because of the social distancing aspect. If we consider how popular portrait photography is, it is no surprise that most photo editors have tools such as PhotoWorks photo editing software that make photo retouching easy and fun.
One of the most significant aspects of PhotoWorks is its ability to provide numerous ways to enhance your portrait photos. Furthermore, PhotoWorks tools are extremely user-friendly and intuitive. You can make use of these out-of-the-box PhotoWorks tools to quickly touch up and improve your portraits like a professional.
Remove Unwanted Glare
Glare is a common issue that affects the portraits by making the skin texture look greasy. Fortunately, PhotoWorks tools let you remove glare with just a single click. You can use the Remove Face Shine option in the Portrait Magic tool to get rid of glare on your portraits.
(Image Source: Creativeoverflow.net)
In some cases, you can even utilize the Adjustment Brush, adjusting the Highlights slider, or with the Clone Stamp. It is worthwhile to note here that each option is different and can help you handle any type of glare you encounter.
Automatically Balance The Light And Color
Many photos suffer from poor lighting that makes them underexposed, overexposed, or affects their colors. In PhotoWorks, you can fix that with just a click by using the auto-enhancement module. It is completely your choice on whether you want to correct the color or light balance, or both.
You can utilize the histogram to review the tonal distribution and select which option to choose. In addition to this advantage, you can even fine tune the adjustments further by making use of the manual settings to directly alter the Highlights, Shadows, Saturation, Exposure, Hue, and more.
Whiten Stained Or Yellow Teeth
Stained or yellow teeth can make your portrait subjects look older and less attractive. You can try out the specialized preset in PhotoWorks' Portrait Magic feature to whiten teeth in your portraits. This tool can be used to make smiles more happy, cheerful, and radiant though you'll have to be in control of how much you want to whiten the teeth using a simple slider.
Fix Red-Eye Effects
If the camera flash was too close to the photo subject, portraits tend to have glowing red eyes – which is also known as the red eye effect. You can get rid of the red eyes by using PhotoWorks' specialized Red Eye Removal tool. You can simply use this tool to paint over the portrait's red eyes to fix them. It is always suggested that you must adjust the brush size and zoom into the portrait to make painting over the affected area easier.
Conceal Skin Imperfections
There is no denying that eliminating small skin perfections from the portraits can be a tricky part. Furthermore, over-editing can make your skin look unnatural. The Healing Brush in PhotoWorks works really well when it comes to concealing skin imperfections such as acne, wrinkles, scars, or even eye bags. The best thing is that you can adjust the brush size to allow for a more precise selection.
To be honest, these are just some of the amazing features of PhotoWorks. As you explore more of its features, you'll find out there isn't much that it can't do.
Need help with graphic designing or UI/UX designing? Reach out to us now at +1-604-256-0821 or drop an email at hello@propelguru.com.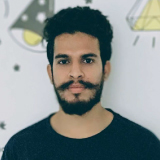 Senior Graphic Designing Specialist
Vipul helps clients communicate an appealing image through digital, electronic, and print media. At Propel Guru, he is entrusted with the task of producing compelling and technically advanced assets for the executive, marketing, and communications teams and our clients. Leveraging different technologies and mediums to produce the best graphic works, Vipul manages and delivers graphic projects within established timelines and budget based on his amazing and thorough knowledge of graphic designing, layout, and creative visual elements.
Hire North America's best Graphic Designing Company. Choose innovative graphic designing experts from Propel Guru now.