Graphic designing is, without a doubt, an essential tool in the quiver of marketing. Choosing the right graphic designer can be a tricky task as the website's reputation highly depends on the design and graphics used. Therefore, an excellent graphic designer may build an excellent first impression, while on the other hand, a bad one may break it.
Spending money on graphics is an investment. Whether you choose to give it to a freelancer or a graphic design agency, you must think well and make a sound decision as to get the maximum benefit and return on your investment.
Big companies have in-house and full-time graphic designers that cater to their business's designs and marketing strategies. On the other hand, small companies often choose to give the task of graphics to freelancers. Either way, what's truly important for each business is to get the perfect graphics that align with their independent marketing strategies and Call-to-action.
While an individual may have plenty of knowledge, creativity, and experience of graphic designing, it certainly cannot beat what a graphic design agency offers for the same amount. Outsourcing the task of graphics to a graphic design agency comes with many advantages. In this blog, we will pick out five reasons why one should hire a graphic design agency. So without wasting any time, let us jump in.
5 Reasons to hire a professional graphic design agency:
Professional expertise and experience
The essential inspiration to work with a graphic design agency is the expertise you'll encounter with regards to making visual aids and tools. Graphic design agencies are well-versed and have strict recruiting policies, so you can be certain that each representative has an elevated level of expertise in the business. This implies that top-notch products, alongside adaptable and proficient services, are ensured from the start to the end.
A professional qualified graphic design agency will have long stretches of experience inside the field. This implies there's a huge number of advantages for clients. They'll have sufficient information about the current market for innovative designs.
Numerous organizations will think about the most recent methods and apparatuses for progress. Yet, primarily among the advantages is fantastic communication skills with clients. They will know how to comfort your psyche and work with you effectively. This guarantees you do not get left out or put off by the graphic design agency, which assists with fashioning a strong working relationship.
Fast Service
One edge that an expert graphic design agency has on different organizations is that they often have various staff members for each task and project. This, alongside significant competency levels and proficiency implies that there's a quick turnaround for your products and graphics. A typical concern with commissioning visual aids is that they will not be prepared on schedule; this sort of worry is not an issue when working with a professional graphic design agency.
Customization
A graphic design agency can work with you to structure and design your website. It very well may be customized to suit your requirements entirely. The graphic design agency will survey your business, products, and company values. From that point, the organization can assist you in making a website that will meet your business objectives. Whether you are hoping to produce online sales, in-person deals, or educate your clients, a tailor-made web page is your smartest option.
Freelance graphic designers do not offer the same capabilities of a professionally designed customized website. Websites made by freelancers are usually limited when it comes to texts and graphics.
Up-to-date Technology
Technology is adapting and taking new forms each day. New computer codes and languages, new apps, and new search algorithms are implemented quicker than you envision. An expert graphic design agency can deal with these issues for you. Since they spend significant time in website design, they know the best and most up-to-date innovation.
On the other hand, freelance graphic designers limit your options when it comes to the latest website building tools. You may not see imbed videos, links or RSS feeds. These can make your site comparatively dull and unattractive and may break your expectations.
Great Visuals
The design and appeal of a website are just as important as the information present on it. Graphic design agencies are professional for a reason! They are what fonts to use and the shade of colors that go with a particular theme and flow. The design of your website is equally crucial to the graphic design agency as it is to you; however, that may not be the case of a freelancer.
Information should be anything but difficult to understand and pleasantly displayed. Simultaneously, you would prefer not to show a lot of information at once. Let the graphic design agency locate this fragile balance for you.
Conclusion
While there are many ways to get graphic designs, choosing a professional graphic design agency must be on top of the list. Not only do they have years of experience and expertise but also access to the latest technology and trends that are prevailing in the world of digital marketing.
Are you looking for a graphic design agency? Hire graphic designing services from Propel Guru to get the advantage of all the things that we had discussed earlier. Follow us on Facebook, Twitter, Instagram, and LinkedIn for more updates.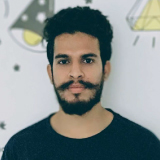 Senior Graphic Designing Specialist
Vipul helps clients communicate an appealing image through digital, electronic, and print media. At Propel Guru, he is entrusted with the task of producing compelling and technically advanced assets for the executive, marketing, and communications teams and our clients. Leveraging different technologies and mediums to produce the best graphic works, Vipul manages and delivers graphic projects within established timelines and budget based on his amazing and thorough knowledge of graphic designing, layout, and creative visual elements.
Hire North America's best Graphic Designing Company. Choose innovative graphic designing experts from Propel Guru now.