An effective marketing plan is critical to a company's growth and is essential for survival in a competitive world. The appropriate strategy increases your chances of making it in the business world, from addressing the needs of your target audience and helping you establish brand loyalty to determining the right prices for your products and services. Moreover, for top digital marketing service providers, a well-considered, well-informed marketing strategy is the foundation of effective marketing. Finally, an effective marketing plan will assist you in defining clear, attainable, and measurable marketing goals for your company.
What Is A Marketing Strategy?
A marketing strategy is a long-term strategy for promoting a company's products and services and gaining a competitive edge. A marketing strategy is different from a marketing plan as it sets the broad direction and goals for your marketing. On the contrary, a marketing plan outlines the particular activities you will take to put your marketing strategy into action. Your marketing strategy may be created over several years, whereas your marketing plan often outlines procedures to be used this year.
Now that you have understood what a marketing strategy is, it's time to map out one for your company. Let's get started!
1. Begin With SWOT Analysis:  Conduct a SWOT analysis and determine the strengths, weaknesses, opportunities, and threats your company faces. It's a fun team activity that's crucial to your planning process because it'll inform all of the essential activities described below in some way. Get as many coworkers to contribute as possible to prevent bias and to cover a variety of viewpoints.
2. Set Your Marketing Goals: Define a set of precise marketing objectives based on the business objectives. These objectives will encourage you and your team while also allowing you to track your progress. Make sure that your overall strategies are both practical and measurable. A solid marketing plan will not be altered every year but will be revised when your strategies or marketing goals have been fulfilled. If your external market varies because of a new competitor or new technology, it will significantly change your products, and you may need to revise your strategy.
In case you require to alter your marketing strategy in the era of crisis, then you can have a look at the video below and gain some insights from industry experts.
3. Identify Your Customers: To thoroughly comprehend your clients' demands and solve their problems through your marketing plan, you must first correctly understand them. Customer centricity, a strategy to fundamentally connect a company's products and services with the wants and needs of its most valuable consumers, has received a lot of attention in the marketing world. As a result, marketers have begun to rely less on traditional market research methods such as surveys or focus groups in their effort to get to know their customers. Moreover, intelligent online platforms and technologies tell them everything about their customers' demographics, online activities, and interactions.
4. Establish Buyer Persona: Buyer personas are made-up, generic depictions of your ideal clients. They assist marketers in better understanding and connecting with customers as real people. Creating buyer personas entails gathering information from several platforms like website analytics, social media channels, client feedback, and conversations with prospects and customers. When researching and creating personas, consider their background, likes or dislikes, and demographic characteristics. Then, identify the best approach to interact with them, what channels they prefer, style and tone of voice, etc.
5. Keep Track Of Your Competitors: We have determined that a smart marketing strategy is a business' game plan that allows it to thrive and stand out from the competition. To reach that level, though, you must have expert knowledge of what is going on in your industry and how your competitors are doing: what are their struggles? What works for them? What are their weak points? Being attentive and monitoring what's going on in your sector is critical for identifying market gaps, unmet requirements, common grievances, trends, and new ideas.
6. Generate Marketing Methods: You will need to use the ideal marketing strategies to explain, teach, and communicate your brand messaging based on your target demographic. First, do thorough research on which social media platforms your audience prefers, including blogs, websites, forums, etc., and utilize that information to reach out to them. Depending on the nature of your business and what would appeal most to your future clients, it's also essential to determine early on which marketing areas you will focus on. Moreover, analyze how much time and money you will spend on advertising, PR, content marketing, SEO, community management, events, and so on.
You can use many tools to help your business expand, but one of the most potent is a strong marketing strategy. These stages will assist you in developing a plan that will bring out the best in your company and assist in providing better lead generation service. As a result, you can grow your customer base, increase your revenue, and lead your firm to long-term success by tackling the process one step at a time.
Want to increase sales and profitability in your business with best-in-class lead generation services? Connect with Propel Guru to set your company on heights, with rigorous research and a skilled lead generation crew.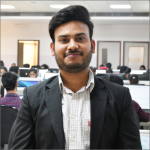 Senior Project Delivery Manager
A passionate and enthusiastic senior digital marketing and sales specialist who is highly proficient in planning, implementing, managing the entire business-to-business sales and marketing process for selling the company's advertising products and services. Having rich expertise and in-depth domain knowledge in the field of both sales and digital marketing, he ensures that he has a confident and winning attitude even during challenging business interactions.