For being successful in sales, one needs to be persistent with their techniques and must have the ability to adapt to the market simultaneously. We have come a long way since the days where a sales representative used to practice door-to-door selling. Now, lead generation marketing has become innovative and seamless with new strategies and technologies.
Undoubtedly, there is no such phenomenon as a born sales leader. Great sales representatives make the entire process look more effortless, but behind a robust performance lies the time they take to hone their skills and constantly move ahead to close the deal in a stipulated time frame. As a budding sales professional, you are required to reinvent your sales skills with time and take advantage of the proven strategies for a better selling approach.
Several economists, business people, and other prominent personalities have shared their best methods for closing successful sales. But, today, I am going to discuss seven foolproof sales techniques of Propel Guru that will help emerging and seasoned sales professionals. These tips will serve as a foundation and help you come out as a successful sales professional.
1. Identify Your Goals: While you are learning to sell, it is essential to ensure that you are starting from the end and working backward. For emerging sales professionals, it is necessary to know their goals. It not only assists you in measuring your performance but is also a perfect spot to start. You can begin with some questions, such as how many customers your business requires, how to engage them, generate new opportunities, and so on. Apart from setting goals for your sales career, make sure that you set personal goals as well. A flourishing sales rep must command attention, be consistent, and execute intellectually.
2. Recognise the sales process: If you are not considering your sales process, you miss a rule. With rapid changes in lead generation marketing, some things always remain constant. For instance, to gain more leads, you will have to determine their requirements, develop their interest in your services, and establish a timeline to sell. You must come with a unique selling procedure so that your company can move seamlessly through the funnel. If you are treating the sales process, then you can easily miss something essential. As a sales rep, you must ensure that you are sitting with your company's managers and understand the process that they follow. 
3. Know The Business Pain: Does this tip slightly annoy you? Worry not; this pain might not cause any illness to you. An actual business pain is a crucial factor that leads to success. As a sales professional, you are responsible for building trust with your customers. Also, your prospects must feel confident that you comprehend their problems and come up with scalable solutions. Moreover, you must prepare your customers to transition to your services and provide them with their requirements, resulting in a happy customer-seller relationship.
4. Monitor Every Step: Anything that is worth doing is worth monitoring, and anything that can be monitored can be measured as well. You must count every step you take during your sales process. It would be best if you tracked what you are selling today. Ask questions, such as, will that service attract your numbers by the end of the month? If not, change things up! Don't procrastinate and wait for the customers to get engaged themselves. Become proactive and solve problems before they arise. Measuring every step of your sales process will help you engage more leads and help you reach a considerable number every time.
5. Sell To The Right Customers: It is an essential part of a sales methodology. If you are in the early stages of becoming a sales leader, you might not be aware of the right audience for your product or service. But, for an emerging salesperson, it is a gradual process of connecting with people who want to hear what you have to say. You can plan high-quality content and allow prospects to reach you. It will eventually save your time and will enhance your probability of closing successful sales.
6. Take Reviews: It is vital to analyze your sales approach from your customer's perspective. For this, you can practice exercise. Before discussing your agendas with your leads, you can record your message. Listen to how you sound. Identify whether your lead generation services appeal to the customer or your negotiating skills compel your authorities to utilize your brand. Moreover, you can even ask one of your team members to sit with you on a few calls and ask them to review your meeting with a challenging prospect. It will allow you to improve your negotiation skills.
7. Advantage Of Upselling: Many sales professionals forget about their clients once they collaborate with you. But, upselling can be the best way to enhance your profit ratio. You must have regular updates about your clients and lookout for opportunities to upsell. Being relevant to the ideas and challenges of lead generation marketing will help you spot an upsell opportunity. You can send follow-up emails to your prospects or even call to check in on the lead quarterly. By taking advantage of upselling opportunities, you can persuade your prospects to utilize the services you provide.
A sales representative plays a vital role in boosting the growth of any business. They are the principal point of contact between the customer and the company. Moreover, a vigilant salesperson ensures that their existing prospects are satisfied with their services, identifies potential leads, pitches effectively, and converts them into successful deals. Now that you are well-aware of essential tips for becoming a sales leader from an emerging one, do not forget to consider these pillars of successful selling.
Are you looking for the best lead generation service provider for converting leads into successful opportunities? Connect with Propel Guru to maximize your number of conversions and increase your sales.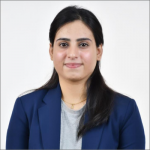 Digital Marketing Specialist
A self-motivated and passionate Digital Marketing Specialist who has a passion for learning more and unraveling the new digital marketing techniques. By communicating conscientiously to a team of differentiated specialists, she possesses excellent leadership skills. She is a collaborative individual who values the talent of those around her and knows how to enhance the work of others with a scope of improvement. She is a persistent problem solver who takes failures as an opportunity to grow.