In today's digital era, marketers are confronted with various strategic decisions regarding implementing marketing strategies, optimizing the website for search engines, and boosting traffic. Top digital marketing services providers are often confused about various marketing matters while generating leads, such as which keywords result in more awareness and conversions? Which marketing channels generate the most interest from first-time visitors? Which services or products sell best with different marketing campaigns? This is where a combination of Google Ads and Google Analytics can benefit marketers to promote and grow their online business presence.
Known as the most valuable tool for both marketers and advertisers, Google Analytics and Google Ads bring a wide range of benefits. Both platforms can empower a marketer in the competitive world by providing comprehensive insight into ad performance and detailed reports. By integrating both tools, one can make the most out of their marketing efforts. From impressions to conversions, Google Ads and Google Analytics can provide a detailed summary of the user path. Furthermore, this integration will enable you to measure the traffic your ads are bringing and later use that information to improve the website's performance.
Using both Google Adwords and Google Analytics, but haven't linked them yet? Here's a complete guide for you to let you know why you should connect Google Analytics to your Google Ads and the steps involved in it.
Benefits Of Linking Google Ads With Google Analytics
Get To Know Your Customer's Behavior

– When integrated, both platforms can help you measure the different paths visitors take through your website. Also, Google Adwords and Google Analytics will provide you with a list of factors on your website that significantly influence the conversion rate.
Optimize Your AdWords Campaigns

– After getting a detailed report of your ad analytics, you can

Optimize Your AdWords Campaigns

. Linking both Google Ads with Google Analytics is an informed business decision. It will provide you with a detailed report on the amount spent on your AdWords account and how much ROI you are generating.
Import Key Metrics

– You can import the Google Analytics metrics into your AdWords account. It will allow you to monitor the average visit duration, new visitors to your website, bounce rate, page per visit, and more on the website.
Additional Remarketing Lists

– You can now extend your remarketing abilities based on the metrics and other dimensions of Google Analytics. It will enable you to create a unique list according to your collected data.
Identify Website Glitches

– Once you get access to specific AdWords metrics like Average Visit Duration or Pages Per Visit, you link your AdWords account with Google Analytics. This will allow you to identify the hidden issues on your website. Also, by doing so, you can solve glitches and enhance the performance of your website.
After understanding the advantages of integrating Google Analytics with Google Ads, let's look into connecting them successfully.
How To Link Google Ads With Google Analytics
Step 1 – Sign in to Google Ads and Google Analytics accounts with the same email address.
Step 2 – Click on the tool icon of Google Ad and open it. Now select the Account access option from the opened tab. Then, under Access, set up as the administrative account access stage.
Step 3 – Now open the Google Analytics tab and select the lower left-hand corner admin section. On that page, check for User Management in the Property and click it. After clicking a new tab named property, permission will open, and select the edit option to give access.

Step 4 – After this, go back to the Property in the Admin section, and there you will see a Google Ads Linking option. Click it to connect the account. Now appears Configure Google Ads Link Group, which has two points. Number 1 has a checkbox; tick it under Select Linked Google Ads account as per your account ID. Number 2 is the Link group title and put the account name. It allows you to link multiple accounts to your Google Ad account. Choose any one accordingly and pull the data from there.
Step 5 – At the bottom, you can see the Advanced setting option; click it, and enable auto-tagging. Through it, you can automatically fetch data from Google Ads to Google Analytics and finally click on the Link Account option to connect your Google Ads and Google Analytics account.

Conclusion
With their strengths, Google Ads and Google Analytics can open doors to marketers' wide range of possibilities. By offering them more leads and revenue for their business, integrating both platforms will provide valuable insights into your website and your business. So, to take advantage of one of the all-time great PPC lifehacks, integrate Google Adwords to Google Analytics and unlock several benefits.
Today, we all want to stay ahead of our competitors. And Ad campaigns have proven to be a great mode of engaging the audience. Are you a top digital marketing services provider looking for the best tools to spy on your competitor's ads? Get in touch with Propel Guru and utilize their digital marketing services to stand out from the crowd.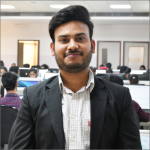 Senior Project Delivery Manager
A passionate and enthusiastic senior digital marketing and sales specialist who is highly proficient in planning, implementing, managing the entire business-to-business sales and marketing process for selling the company's advertising products and services. Having rich expertise and in-depth domain knowledge in the field of both sales and digital marketing, he ensures that he has a confident and winning attitude even during challenging business interactions.