When it comes to finding solutions in a crisis, leaders who react with sympathy and compassion receive appreciation and support from everyone. We're all considering driving through this pandemic and be that as it may, nobody could have anticipated that this disease would have transformed clamoring urban areas into ghost towns. There are no precedents we can turn to for these specific circumstances.
History has suggested that Leadership and Groups tend to be equally influenced during a crisis, whatever structure they take. Quite a bit of it comes down to this: individuals need future security, and when they are deprived of that certainty, they need consolation that they will be alright.
Ajay Dubedi, the CEO and Founder of Propel Guru, shares a couple of leadership suggestions:
Showing confidence is the key when fear strikes
To be a leader in the hours of crisis is intense, and one should be more on their toes when the team is fearful and on the edge. Confidence that their prosperity is your first concern and that you will all stand together and endure rather than portraying that you comprehend what will occur. You can't anticipate the future, yet you can be calm against challenges.
In the presence of distress, show empathy
When it comes to fixing things, leaders are expected to step in and take charge time and again in situations when things go awry.
A leader who is a navigator emerges as a reliable guide to the group under stress. Leaders must be able to guide their team team with empathy and comprehension, uniting them to discover solutions and open new doors in an atmosphere of crisis.
In times of uncertainty, show transparency
Numerous leaders amid emergencies depend on the adage "fake it till you make it," but Ajay believes that you might worsen the situation by following this totally wrong strategy.
When things get gruesome, you ought to be transparent with your team. You have to convey in a manner they get you and relate with you. The communication ought to be in what we know, what we don't have the foggiest idea about, what we are fouling up, and what is being required to fix it.
In times of anxiety, show humility
With no idea about what lies ahead and everybody around you being on the edge, you must lead with humility. An admission to not have all the answers when you don't have clearness but a determined will to have all answers is acceptable.
Keep it subtle, do not put on a show of being egotistical, try to look sharp and confident. Uncertainty is uncertainty. Hold your grounds and focus on the things you can do rather than ranting your way through while conveying worth and caring for each other in the present time and place.
A crisis is a time when you apprehend the real face of a leader. Leaders can either construct a strong team or see them getting disintegrated right before their own eyes. There's no advantage in faking a sureness that doesn't exist, then again, neither permitting vulnerability to get the best out of the team. It's time to join hands and minds to converse with transparency and bring about the best in one another.
Ajay concludes, "A remarkable leader is one who can flourish during uncertain times."
Stay updated with Propel Guru, a digital marketing firm in Canada, for more leadership blogs. Follow us on Facebook, Twitter, Instagram, and LinkedIn for more updates.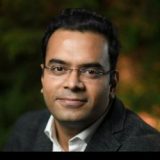 15+ years leading business operations and client management in the segments of digital marketing and CRM. Driven by test-driven development paradigms, and exceedingly collaborative across all disciplines (from stakeholders to product to design to development to users – and back again).
Hire the best Digital Marketing Company from Canada. Choose certified Digital Marketing Specialists from Propel Guru now.