A competitive analysis helps many digital marketing companies stay ahead of their competitors on social media. This way, you will find out how you differ from your competition. The competitive analysis based on social media is a process of benchmarking your outcomes against your competitors to identify the opportunities for the growth of your organization. 
A competitive analysis brings out the strengths and weaknesses of your organization. But, it is advisable not to get too bogged down by the competition analysis. The marketer will find out where your social media strategy lies and gather insights to increase the leads. The insights can provide information on what is best for your industry, scopes of improvement, and ways to shape your Social Media Strategy in the future.
90% of Fortune 500 Companies already use Competitive Intelligence to Gain a Competitive Advantage. So, businesses other than Fortune 500 must adopt this.
(source: emerald.com) 
How do we start the process? In this post, we discuss the tips on how to perform a Social Media Competitive Analysis?
Research the Social Media Competitors 
First, you locate your competitors and the platforms used by them. The focus must be on those who use Social Media Marketing to grow their business. 
Now you have already become aware of the keywords for your business that you want to fetch a rank in the search engine. You can use Google Adwords Keyword Planner to find the relevant keywords for your brand. Analyze the website using this tool to get a list of relevant keywords. Plug Google with the top keywords and find out your competition. 
You must be attentive to brands investing in Google Ads and find how well they perform on social media. The brands that rank on Google with your keywords are not always the same ones ranking well on social networks. 
You try to find out the brands followed by the audiences in the social network. And then find the suitability of these brands as your competitors. Choose those brands that get fitted well within your niche market. 
Gather Data 
The social platform chosen by you decides the process of data gathering. We take Facebook's Competitive Analysis as an example here. The first thing to do is a manual review of the competitor's page to know the number of people following or liking the page. You ought to figure out novel features or tabs that they have. Getting insights into the number of messages to send and receive by your competitors and the content types posted by them (text, images, or videos) are important, as well as the engagement and the amount of received messages. You can also carry out competitive analysis on Twitter and Instagram. 
Examine Competitor's Activity
It is crucial to find out how active your competition is. The brands which post once after some days are considered to be involved. Three queries you have are:
When was the last time they posted?

Is there a long duration of time between each post?

Do they respond to comments?
Next, find the type of content or the percentage of promotional content published. 
As per State of Competitive Analysis, 2022, 96% of businesses believe the social media accounts of their competitors are valuable sources of intelligence. (source: crayon.co)
For some marketers, brand voice is important, which is the tone and POV used by a brand on social media to define the brand. The tone depends on branding guidelines. The number of blogs written by your competitor's website is yet another vital information. 
Speed up Your Competition Analysis 
You can achieve this with social listening for a broader perspective of conversations about your industry and competitors on social platforms. 
As conversations on the internet create unstructured data. So, knowing what an organization wants to achieve with social media listening efforts is paramount. 
Incorporate the Latest Data 
Finally, once you gather the data, you start using the same. You must make sure that you keep your competitive analysis up-to-date. A proper social media monitoring strategy provides real-time data required for future analysis. This way, you can find out the threats and opportunities. There are tools for social media monitoring and competitive analysis that allow you to stay ahead by finding gaps in your strategy. 
Conclusion 
A competitive analysis helps the marketer find where the social media strategy lies and gather insights to increase the leads. The insights can provide information scope of improvement, what is best for your industry, and ways to shape your social media strategy in the future. You carry out the competitive analysis in various steps to arrive at a data-driven decision to produce value for your business. 
Looking to hire one of the top digital marketing companies to skyrocket your social media games with effective social media strategies? Connect with Propel Guru's team of experts to leverage the top-notch Social Media Consultant services and strategies, and increase your brand awareness.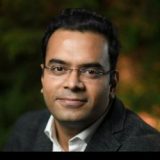 15+ years leading business operations and client management in the segments of digital marketing and CRM. Driven by test-driven development paradigms, and exceedingly collaborative across all disciplines (from stakeholders to product to design to development to users – and back again).
Hire the best Digital Marketing Company from Canada. Choose certified Digital Marketing Specialists from Propel Guru now.