Marketing and sales are one of the main aspects of digital marketing, and both go hand in hand to attract, inform and retain more customers. Also, the combination of marketing and sales funnel plays a crucial role in the future of your business success. Everything digital that transforms into revenue for the organization passes through these funnels. 
For the smooth functioning of the marketing and sales funnel, it is vital to recognize the buyer's persona when identifying the audience. The customers' changing needs can be easily identified by closing the communication gap between the sales and marketing teams. Additionally, the data shows that each prospect goes through the whole research before engaging with any sales representative. In that case, marketers take the lead to get the business in front of the prospect and let them know about their product or services.
Have you ever wondered what benefits sales funnel and marketing funnel bring to the table for marketers when combined? Here, in this blog post, we've put together a comprehensive guide to learn about the sales funnel and marketing funnel and how combining marketing and sales funnel can help you attract more leads and convert them into customers.
What Is A Marketing Funnel?
A Marketing Funnel is a visualization that marketers use to understand the process of interacting with their audience. Funnels use messages, intentions, and attitudes from users to match their creative assets. The marketing channel is your audience's journey through research, education, information, and the decision-making process.
A Sales Funnel is a step-by-step procedure that brings your prospect one step closer to your offering and buying decision through a series of marketing promotions such as automated emails, videos, articles, and landing pages. It is a visual representation of the customer journey that represents the sales process from awareness to action.
Now, let us take you through the marketing and sales funnel of Propel Guru.
Brand + Persona Strategy

Sales-Ready Website

Content Creation + Promotion

Lead Generation + Nurturing

Sales Enablement

Lead Qualification

Prospecting + Outreach

Sales Presentation + Demos

Proposal + Objection Handling

Refinement + Objection Handling

Refinement + Closing Calls  
It is believed to be a full-fledged funnel that involves both sales and marketing strategy and solutions, followed by Propel Guru, the best digital marketing agency in Canada, to generate actual results and higher brand awareness.
Features Of Aligning Sales Funnel And Marketing Funnel
1. Sales-Ready Website
Building a website is easy, and anyone can put it into practice. Also, limiting it to a standard digital brochure is a general idea that everyone can practice. The real challenge faced today is transforming these websites into a powerful lead generation machine. Hence, attract the right visitors to generate higher quality leads by increasing sales and boosting conversion rates.
2. Conversion Optimization
The conversion optimization programs do more than just increase the storage rate for assets you already own. Measuring and creating future assets plays an important role. Moreover, all the tracking is focused on your one big KPI. 
3. Inbound Marketing
Inbound marketing is a marketing process with an existing marketing strategy, wherein a proven marketing campaign is added to create a new and productive marketing strategy. Once this marketing strategy is put into action, tracking those activities to achieve revenue-generated goals comes into practice. 
4. Revenue Operations
Companies should always seek support when developing business and technical processes within their CRM. Furthermore, one should also try to interact with the on-call consultant who knows all about your sales process. 
5. Search Engine Marketing
Search Engine Marketing is one of the main features in any marketing or sales funnels when ranking up on Google in search results. Optimization should always be based on an updated strategy so that it ranks higher over time. Assuming there is something new on the market, but you didn't realize it, your marketing strategy may fail, and you may not be able to rank first on google search results. 
6. Content Development
Content has always been the key to success in all aspects of marketing, or we can say content is the backbone of marketing. However, if your strategy is perfect, the content you use is not perfectly optimized for your marketing strategy, then it will eventually fail.  Therefore, every brand needs to consider and develop its marketing strategy with well-developed content. 
These are the features that should always be considered when setting up marketing and sales funnels. To guide you on the path of aligning sales and marketing teams in your organization, here are the key steps that you should follow to improve the way that your company communicates, informs, and engages with customers.
Steps To Achieve Marketing And Sales Alignment
1. Build A Single Customer Journey
To get your sales and marketing department onto the same page, it is essential to restructure the entire customer journey. Everything should be tied interconnected from the awareness phase at the top of the customer journey's funnel to brand loyalty. This connectivity allows you and your team to have one perspective across the funnel. By having the appropriate system and technology in place, you can bridge the gap between the marketing data collected for leads and turn them into leads and opportunities.
2. Agree On A Customer Persona
In sales and marketing, it is vital to know who you want to sell your product or service – failure to clarify who the ideal customer can often lead to ineffective strategies and misconnections between your team. Your sales and marketing team should agree on a customer profile by creating a perfect customer persona document to be more effective collaboratively. Working together helps you understand your ideal customer, what they are looking for, and their biggest challenges.
3. Utilize A "Marketing-First" Approach
Potential customers are less likely to respond positively to cold calls or sales emails if they are not aware of who you are. This may result in a negative impact on your company's reputation and reduce your chances of closing the deal. A successful sales and marketing team's best practice is to take a "marketing first" approach.  In this approach, marketers target potential customers who have a specific problem and show them how to solve it.
4. Keep Track Of Common KPIs
There is no denying that sales teams' success is generally measured by numbers – be it accounts, deals closed, or contract renewals. On the other hand, marketing teams are measured by lead quantity, quality, and brand awareness. To help your sales and marketing departments get in sync, all you have to do is consider common key performance indicator (KPI) measurements. If your sales and marketing teams have the same KPIs, you have a good chance of realizing the synergies behind their work and analyzing how your company is performing in sales and marketing.
5. Use Customer Feedback
Finally, the most effective step you can take after you align your sales and marketing teams together is to check out the feedback you get directly from your customers. The best time to get feedback is with customer service and sales promotions. It is an ideal opportunity for sales representatives to discover potential customers' pain points and motivate them to purchase the products or services.
At Propel Guru, known as the best digital marketing agency toronto,  our sales team has examined more than 800 prospects to understand what they want to achieve with our services. The general answer is to increase sales and boost customer loyalty.
Aligning your sales and marketing team would be a perfect opportunity to grow your business and maximize the number of conversions. By combining the sales and marketing funnel, you can gain unique insights into the sales process, refine and optimize your sales and marketing strategies, develop new business opportunities, and increase sales.
Want to stay up-to-date with digital marketing trends and enhance your digital marketing skills? Subscribe to our YouTube channel now to learn the core concepts of digital marketing from industry experts. Gain access to dozens of insightful and informative marketing and sales videos, including tips on improving marketing results, starting blog writing, and sales strategies and tactics.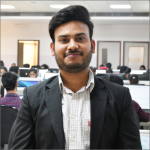 Senior Project Delivery Manager
A passionate and enthusiastic senior digital marketing and sales specialist who is highly proficient in planning, implementing, managing the entire business-to-business sales and marketing process for selling the company's advertising products and services. Having rich expertise and in-depth domain knowledge in the field of both sales and digital marketing, he ensures that he has a confident and winning attitude even during challenging business interactions.