When it comes to social virtual selling, every salesperson must be well aware of the best practices to shape new virtual sales techniques. With the scenario that occurred due to the pandemic, it has become clear that social selling will always be a lifeline for sales reps and can offer long-term benefits in a post-pandemic world.
A sales professional is someone who thrives on the energy and communication to close successful sales. Keeping in mind the current situation, many sales leaders would have started preparing for a future where effective social selling is a standard, ongoing business practice. Instead of canceling their strategies for their kick-offs, sales reps are investing in new tools for virtual success. They explore ways to engage and provide their audience with a platform that will inform, inspire and connect their potential customers.
However, before jumping into the best tips and tricks of social virtual selling and engagement, let's understand what it is and why it is essential.
Termed as sales 2.0, social selling is a new sales model where a salesperson uses a social media platform to engage and find new prospects. Such a practice will offer value in terms of getting connected with the leads in real-time. Not just this, social selling involves:
Answering open-ended questions.

Responding to the comments.

Sharing content in a planned manner until a prospect is ready to acquire the service or goods.
The new way of sales, i.e., social selling, is all about leveraging social media for expanding the network and reaching new customers, educating them about the services the company provides, and nurturing with the help of the content. Notably, social selling has seen such rapid growth because of a sudden shift in social media usage. According to a study conducted, 94% of B2B buyers research online before making a business purchase, while 55% of people conduct online research for at least half of their personal purchases.
And on which platforms do such buyers conduct their research? Yes, you guessed it right, on social media channels!
Source: Think With Google
We can expect that decision-making millennials will call for a rapid shift in social virtual selling at such a pace. 
After getting acquainted with some details and facts, and figures, let me tell you about the benefits of social selling and what techniques to follow.
How Can Social Selling Grow Your Business?
When we talk about why social selling is important and what benefits does it bring along with it, we can say that social selling:
Provides a continuity plan for business. 

Enables access to more stakeholders. 

Encourages decision-making momentum for customers.

Assists in building trusted relationships.
Further, for successful and effective social selling, a social media marketing consultant will inform you about taking advantage of two major techniques, which are as follows.
Outbound Prospecting 
With this technique, sales representatives can identify and comprehend their prospects by directly connecting with them. It will allow you to find better leads who will be the best fit for your services.
Inbound Marketing 
Here comes the relationship-building process. In this technique, the salesperson must share valuable content on their social media platforms to attract more leads.
How To Get Started With Social Virtual Selling On Different Platforms?
Both well-established and new brands utilize social media to grow their followers, boost leads and enhance their sales. For some, building a brand on a social media platform might seem like a tedious responsibility. However, using social media for connecting with people is one of the most adaptable ways one can take advantage of. Whether you are starting or have been active on different platforms for years, there is always a scope for improvement.    
For utilizing social selling, you have several platforms you can choose from. But, several questions might arise. Which platform is right for your business? Should you utilize more than one platform for social selling? And so on.
A salesperson's social media profile should be more like a digital resume in today's competitive world. It will help you foster your reputation among your buyers, who can bring new insights into your business. Therefore, choosing the right platform to sell on is similar to choosing the right platform to use as your social media outlet.
Here is a list of social media platforms that you can choose from.
It is no surprise that Facebook can easily be a top choice platform for social selling. One feature in Facebook that can help your business grow is the product catalog. With the help of this feature, you can link your inventory in your ecommerce store to your Facebook business profile and begin selling those products directly on the platform. You can attach the items in your Product Catalogue directly to your Facebook Ads. In this way, you can reach your customers highly targeted, making them more likely to eCommerce purchases. You can also use your catalog when remarketing to customers using Facebook's dynamic ads.
With over 1 billion users and 80% of them using the app to make purchases, make Instagram one of the most loved platforms for social virtual selling. While promoting and selling on Instagram, you can also link your product catalog to Facebook. The feature for securing your product catalog is shoppable posts.
Following are the steps that you need to follow for creating a shop on Instagram. It will provide you with access to features such as product tags.
Step 1: Confirm your eligibility and convert it into a business account. 
Step 2: Connect to your Facebook page and upload your product catalog. 
Step 3: Complete your account review. Turn on the shopping and add product tags.
Source: Facebook for Business  
If you are active on Pinterest, then you know that Pinterest has its social media jargon. It also means it has its way of social selling. Pinterest provides users with buyable pins. If you see a pin with a blue price, that means the product shown in the plug can be purchased. This is how a buyable pin works. You take advantage of buyable pins only by connecting Pinterest to your e-commerce platform.
Every time you add a new product, you have to make the product visible on Pinterest, and it will automatically become a buyable pin. If you have buyable pins, people can also go directly to your profile to find and shop your pins eligible for purchase.
Before adopting social media, salespeople used their directory for cold calling. Today, they can find more data on social networks like LinkedIn. With over 690 million members and 50 million companies, LinkedIn is the world's largest professional networking platform. Individuals, businesses, or brands can share company news, announcements, updates, and more through posts and articles on their LinkedIn profiles.
Having a reputed LinkedIn presence with content and videos will attract your customers as well. But, when it comes to promoting sales via LinkedIn, a sales professional can take advantage of LinkedIn's Sales Navigator. It is a social selling platform on LinkedIn that will offer various features to sales representatives. Through Sales Navigator, users can look for suitable prospects for their brand or services and foster trusted relationships. With LinkedIn Sales Navigator, a salesperson can get in touch with the right leads by utilizing the filter and search features.
For conquering the world of virtual sales, one must gain their customer's confidence and trust. Not just this, a sales professional can even reinvent their go-to-marketing strategies that will drive growth and boost the company's success. As I have already mentioned, social virtual selling is the renewed way of selling and promoting your services, so one must embrace it and adapt to it. If you are a social media marketing consultant and have a good online presence of your brand, use this powerful tool. Social media will optimize your sales and maximize benefits.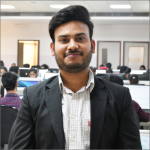 Senior Project Delivery Manager
A passionate and enthusiastic senior digital marketing and sales specialist who is highly proficient in planning, implementing, managing the entire business-to-business sales and marketing process for selling the company's advertising products and services. Having rich expertise and in-depth domain knowledge in the field of both sales and digital marketing, he ensures that he has a confident and winning attitude even during challenging business interactions.