Want to become an amazing creator and looking for the best of 7 Graphic designing tools to make your designs stand out? Then, hey, you have landed in the right place.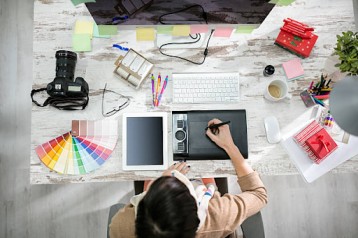 Graphic design and its software tools
Graphic designing is the art of communicating through designs and visuals. To transform this art into a perfect design, the designers must follow the current trends, the audience's perspective, and their thought process.
As a leading digital creative agency, here's our take on the best tools.
Firstly, let's talk about why graphic design tools are essential. What sets your brand apart from competitors when discussing any brand awareness content? It is ultimately the visual appeal of the content that you put up. They say it takes 0.05 seconds to form a general first impression of your content. The design takes a lead role.
Therefore, for content to be accepted and loved by the audience, it should be aesthetically appealing and textually relevant too.
In this blog, we will tell you the best graphic software tools for all types of designers, from beginners to experts, that can improve their design in every way possible.
Every tool has its own prominent and unique features, so let's check out the top seven tools for the current trend that works magic.
Canva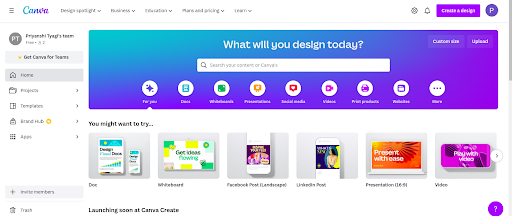 Speciality: Best design software for non-designers
Required skill: Beginner
Canva provides a versatile platform for working on diverse projects such as infographics, brochures, social media posts, etc. Its intuitive drag-and-drop interface makes it easy to use, even for those without graphic design experience. 
For this reason, it is considered one of the top design tools for beginners. The application boasts a vast collection of photos, templates, backgrounds, and fonts used to kickstart your design. However, while some of these resources are free on Canva, specific images, and graphics may require in-app purchases.
Top benefits: 
Drag-and-drop and user-friendly design interface 
Pre-made size templates are available, simplifying creating content specific to a particular size.
Integration with social media allows you to post directly on prominent social sites.
It offers various elements, icons, and graphics, numbering in the hundreds.
Enables users to add frames and vignettes to images.
2. Inkscape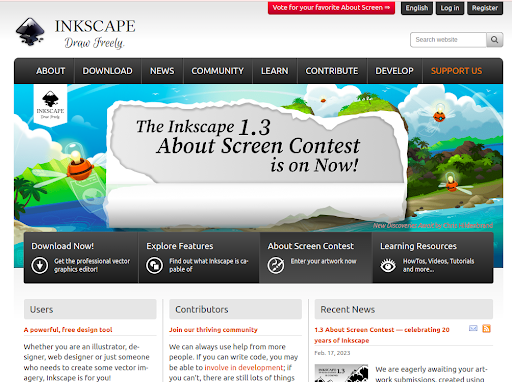 Speciality: Best for vector graphics
Required skill: Beginner 
Inkscape provides a cost-free solution for creating vector graphics and offers a range of features and tools comparable to Illustrator. In addition, Inkscape offers a vast selection of extensions that provide additional functionality, including but not limited to jigsaw laser cutting and blueprint features.
Top benefits: 
It allows you to create and modify vector and non-vector graphics to meet your design needs.
With the ability to import and export designs in various formats, this software makes it easy to work with your preferred file types.
It offers perfectly compliant SVG format file generation and editing.
You can experiment with your designs using various editing tools and features.
Command line options are available for export and conversions.
3. Adobe Photoshop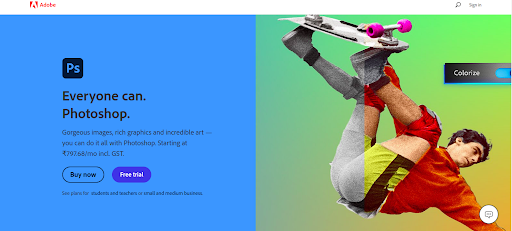 Speciality: Best for image editing
Required skill: Beginner – Advanced
Adobe is the king of available paid graphics software. It all began with Photoshop, the original Adobe software, which remains popular. Some of the tools will be easy to approach for beginners, but much work is required to learn the advanced stuff. As you expect, it is the industry standard software with all the necessary tools like editing, retouching, enhancing, and prepping photographs.
Top benefits: 
Ample cutting-edge features in one place
It provides unparalleled editing features.
You can put your creativity on the frontline with its integrated stock library.
Basic images turned into professional ones with ease
All-purpose software
4. Adobe Illustrator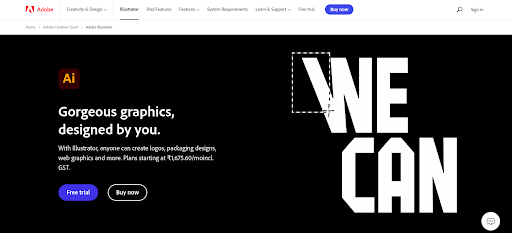 Speciality: Best for creating vector images
Required skill: Beginner – Advanced
Adobe Illustrator can easily create digital, printed, and traced images. This graphic design app is a standard one. Offers ease in creating cartoons, logos, and illustrations. It helps in manipulating the text in fancy ways and re-colouring or giving a sketch-like appearance to the photographs.
Top benefits:
Intuitive user interface
Vector-based design and versatile software 
Good file recovery
Entirely scalable
Offers multi-page output
Almost compatible with all PC frameworks
5. Affinity Designer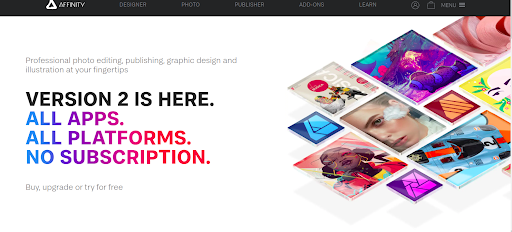 Speciality: Best for freelancers on a budget
Required skill: Beginner – Advanced
Adobe dominates this industry, but Affinity Designer is regarded as a viable challenger. It is similar to Illustrator and helps design vector images. This beginner-friendly graphic design software is ideal for starting and freelancers.
Top benefits:
Creates accurate designs 
Pixel and vector in a single workflow
Offers advanced grids and precis curves 
Optimisation for UI, Web, and App Designs 
Advanced memory system and file support
Game design and non-destructive operations 
6. Adobe InDesign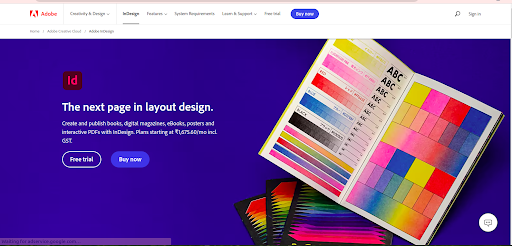 Speciality: Best for multi-page projects
Required skill: Beginner – Advanced
InDesign is a versatile desktop publishing and layout tool for producing various print and digital publications, including books, magazines, brochures, and other materials. Although it is widely recognised as the industry standard software for editing long-form, multipage documents, its capabilities extend beyond that.
Top benefits:
It is highly adaptable software that adjusts easily to your needs and preferences.
Its versatile design capabilities include image editing tools that can produce effects similar to those in Adobe Photoshop.
It allows the seamless import of images and enables you to make images transparent with precision.
Other valuable features include creating tables and opening PMD files.
7. Gravit Designer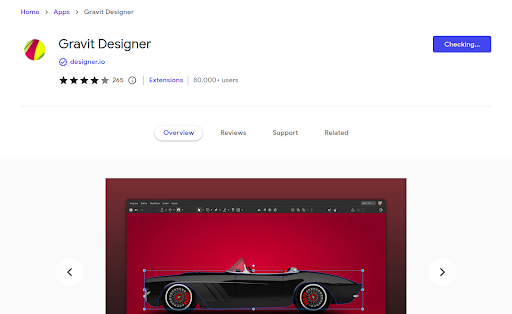 Speciality: Best for vector illustrations
Required skill: Beginner – Advanced
Gravit Designer offers more than just image editing capabilities; it is also a vector illustration and GNU image modification program. The software's flexibility and user-friendliness are among its most attractive features, owing to its HTML-based programming language being compatible with a wide range of systems. Additionally, the software supports RGB colour space and provides HSB and CMYK support at the professional level.
Top benefits:
It boasts exceptional compatibility, allowing it to function on various devices across all platforms, including touch-enabled devices and Apple Pencil.
It offers customisable features such as a dark theme and support for 14 languages.
It provides excellent customer service, helpful tool suggestions, and additional resources to users.
Conclusion
Selecting the right graphic design software doesn't have to be a daunting task. Hopefully, the list of the top 7 tools mentioned here can make your decision-making process more effortless. These software options enable users to create graphic designs that suit their business needs, skill level, and financial resources.
By picking the right software, users can streamline their design process and produce graphics that effectively communicate their message to their intended audience.
It's essential to consider your current needs and future demands as your business grows and your skillset improves. This will ensure you select software that can grow with you and provide the necessary features and capabilities for your projects. 
It's also important to consider your budget and any specific requirements, such as compatibility with certain file formats or operating systems. You can select the best software tool for your graphic design needs by carefully evaluating these factors.
So, are you looking for skilled experts in graphic design software to boost your brand awareness and increase your business sales via content creation, marketing, copywriting, etc.?
We at Propel Guru can help you elevate the quality of your design work and take your business to the next level. With our expertise and guidance, you can create visually stunning designs that capture the attention of your target audience and effectively communicate your message. 
Propel Guru is a digital marketing agency that can assist you in your business journey and help exponentially grow your business. If you need a digital marketing consultant, feel free to contact us. 
Thank you for reading!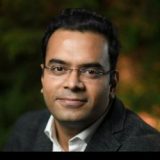 15+ years leading business operations and client management in the segments of digital marketing and CRM. Driven by test-driven development paradigms, and exceedingly collaborative across all disciplines (from stakeholders to product to design to development to users – and back again).
Hire the best Digital Marketing Company from Canada. Choose certified Digital Marketing Specialists from Propel Guru now.