Introduction 
SEO and Paid Ads are the most trending approaches to get traffic on your website. 
Digital Marketing is all about strategies to get better results for your brand. However, some techniques can help you to achieve optimum results in a short time. 
SEO and Paid Ads are complementary tools, as SEO efforts can improve the effectiveness of your paid campaigns.  If you need help knowing where to start, know the pros and cons of the two tools with Propel Guru, a leading SEO Consultancy service provider, who can benefit you with their unmatched expertise and deep domain knowledge around the digital marketing world.
This blog post will provide insights on how different SEO and Paid Ads are, the pros and cons of SEO and Paid Ads, and find which is better.
Let us first understand how SEO and Paid Ads differ from each other. 
How do SEO and Paid Ads Differ?
SEO helps us to get web traffic without any budget or spending money. It would be best if you are well aware of the Google algorithm so that your brand occupies the best positions in the search engines. It requires a lot of patience, and you must be aware of the common mistakes to be avoided in SEO. 
On the contrary, Paid Ads fetch faster results. It enables you to reach the top positions in the search engine result pages and appear on top of the related organic results. 
As per Google Ads statistics, every $1 spent on paid ads brings businesses around $ 2 ROI, and PPC Ads help companies to increase brand awareness by 80 %. 
(source: https://lunio.ai/statistics/ppc-statistics/, https://sendpulse.com/support/glossary/paid-advertising )
Great, Right?
But, it comes with a price only because an amount will be charged – based on clicks by people. 
Moreover, they are classified ads based on keywords that help to improve search quality. 
Cons for SEO and Paid Ads 
SEO 
It takes time and does not deliver instant results. It takes six months to one year to get traction.

It needs continuous publishing of new content and updating existing articles to surpass competitors. 

Requires the right way to do SEO, as quick & shortcut activities may land you penalties from Google. 

Requires expert knowledge and skills due to the complex Google algorithm, and hiring an SEO Consultant or SEO Agency pays off if you need more resources. 
Paid Ads 
Requires a considerable budget to achieve results. Optimizing PPC campaigns requires great skills and knowledge. 

Requires constant refreshing of the ads to achieve engagement levels. Testing of landing pages and new ads is needed, so you may require a higher than the ongoing budget to drive your sales. 
Pros of SEO and Paid Ads 
SEO 
The advantages are:
It helps to build credibility and trust with your site that is fetched in organic results since many users value organic results rather than paid ads.

It increases website traffic by driving awareness about your business.

It incurs no direct charge for each click or impression.

It sustains a business even with reduced funds, unlike Paid Ads.

It generates more clicks with a highly placed organic listing than with highly placed paid ads. 

Enables a strategic advantage over your competition who uses Paid Ads when you have managed to establish yourself in the organic results.
Paid Ads 
The advantages are:
Allows you to target a specific target audience, particularly for the startups to bring innovation to the marketplace.

It can run personalized ads.

Drives results through paid ads by regularly checking results – monthly or weekly. 

It enables you to evaluate the efficiency after launching and instantly viewing results like Instagram stories. 

It helps speak to the right audience by setting options like demographics, interest, age, etc., and improving your campaign results. 

It lets you ride above competitors, putting your company before the prospective client, even with a low market share.

Provide retargeting opportunities by running campaigns based on interests and driving your sales. 

Get a clear picture of your marketing efforts with analytics and change strategy while on the go. 

It helps you to run A/B tests on PPC Ads quickly. 
SEO VS Paid Ads: Which One is Better?
When we ask which one is better – SEO or Paid Ads, it is the same as asking which one you prefer. Your hand or a spoon to eat your meal? It varies from country to country and whether you want to soil your hand. It all depends on the situation prevalent. 
SEO is ideal when you have a marketing budget constraint, are eager to build brand authority, yearn to maximize the long-term ROI, or create content to reach your audience at various sales funnel stages. 
However, you can drive better results with PPC Ads when you have an innovative product, want to fetch faster results, or need to direct your audience to a landing or sales page. 
Conclusion 
To choose which is right for your business, SEO or Paid Ads, you must weigh the pros or the cons of both. 
However, with all their pros and cons, SEO and Paid Ads work best in synergy. They drive better results working together like organic search (SEO).can be fed with the conversion and keyword data from PPC, increase awareness with strong organic search and strong PPC, input the landing pages and organic listing with the A/B testing of ad copies, and landing pages, etc. ( 86 words)
Do you want to drive better results for your business by understanding which one is better – SEO or Paid Ads? We at Propel Guru provide world-class SEO Consultancy Services to let you choose any one of these tools or a combination based on your needs. Contact our top SEO consultants now!
To know the Best SEO Strategies that can do wonders for your business, please give this blog a good read.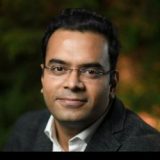 15+ years leading business operations and client management in the segments of digital marketing and CRM. Driven by test-driven development paradigms, and exceedingly collaborative across all disciplines (from stakeholders to product to design to development to users – and back again).
Hire the best Digital Marketing Company from Canada. Choose certified Digital Marketing Specialists from Propel Guru now.