Digital marketing is constantly evolving, but 2022 is likely to bring significant changes. Businesses must plan for and be ready to capitalize on the future of digital marketing. Spending money on your marketing team and getting them to plaster your brand logo on Social Media will not win over the hearts and souls of your target audience.
While "promotion" and "marketing" are frequently used interchangeably, some important distinctions must be made. As a result, your company should treat promotions as a subset of its marketing strategy.
If your company is about to launch a new product, open a new location, or create buzz around existing offerings, it's time to ramp up your promotions and ensure your target audience knows you've got the goods. But how can you view this creatively and in a way that captures the target audience's attention and draws the attention of your competitors?
Here are the top 12 digital marketing trends to watch in 2022 and how to capitalize on them.
Facebook has officially renamed itself, Meta. While naming the parent company makes sense, the choice is what matters. Facebook is betting on the Metaverse, which refers to virtual and augmented reality experiences. This is a significant bet on the future of the internet.
Support gifts and loyalty programs
Customer loyalty is essential, and many businesses achieve it by forming a loyalty club. However, simply having a loyalty program in place is insufficient; you must promote it and make it worthwhile for customers' time.
Create an exclusive club atmosphere by offering exclusive offerings, services, or other specials to your loyalty program members.
If providing an upgrade does not work for your business model, do not despair. Customers continue to enjoy sales, discounts, and promotions. And, in this day and age of data-driven customization, you can take this traditional form of advertising to the next level.
First, rather than blanketing your entire crowd with non-discriminatory sales prices, tailor a promotion to a specific subset of customers. Offer personalized discounts to top customers based on purchase history and other preferences.
You can also partner with a significant influencer or brand ambassador to spread the message about your event. This approach has the added benefit of reaching two audiences: not only will this promotion from your selected brand ambassador be seen by your core audience. Yet the influencer's group of followers will be revealed to event information. In this way, you broaden your brand's reach and increase the likelihood that as many people will see event details as possible.
Modern digital ads rely mainly on data to optimize themselves automatically. Artificial intelligence data has decreased due to new privacy rules, such as the iOS upgrade and the impending cookie removal. Marketers should anticipate the impact on their advertising and also be proactive.
It may be worthwhile to investigate these digital alternatives to benefit from this marketing technique. Create a spectacle your target audience will enjoy and allow them to correlate your company with a positive one. The best thing about the events is that they don't have to be directly related to your brand. You can set up a CrossFit challenge as a tech company. Collaborating with other brands can also share the risk and the budget.
In the digital sphere, LinkedIn is still a popular growing star. They experience a considerable rise in monthly users and platform interaction each quarter. They're continually adding new tools to help businesses and pages perform better. Marketers should put a lot of money into LinkedIn.
Search engine optimization is one of the earliest and most valuable aspects of online marketing. As search algorithms become intelligent and contextual, marketers must focus less on SEO "hacks" and more on providing a meaningful and exceptional experience to their users. Marketers should prioritize excellent user experience over SEO.
Support for a local cause
Another great way to have your restaurant's name out there is to sponsor or support a good cause in your community. Furthermore, a local sponsor or donating to a nonprofit foundation is an excellent way to humanize your brand and demonstrate your commitment to the local community.
This strategy can be as straightforward as selecting a local sports franchise and sponsoring the price of new jerseys or equipment. Your restaurant might also cater for a nearby charitable festival or collaborate with a local school to help students with their culinary education. 
Website traffic is dominantly movable; however, most websites are not fully mobile-optimized. As Google introduced the Core Web Vitals website builder, speed would become increasingly important. Marketers must ensure that their websites are optimized.
Brands have used pop-ups and transformations the same way that art installations have. A Sprite-themed beach shower is a good example. What's great about this is it also fulfils a function, such as washing off seawater after swimming. As a result, it assisted customers in associating the brand with the fulfilment of a need that the brand itself does not usually meet. Furthermore, notable brands have embarked on full-fledged transformations.
Everything is algorithm-driven
Every facet of digital marketing, including social media, Facebook feeds, display advertisements, search engine optimization, social adverts, and even email, is becoming algorithm-driven. All of the algorithms are aimed at improving the user experience. Digital Marketing Consultant must provide user experiences that people desire, or their content will become less visible.
Bottom Line
It is all too easy to become distracted by flashy new digital objects. Marketers love emerging styles and being at the forefront of new platforms and technologies. Nonetheless, a lot of business growth is still driven by the foundational tools of digital marketing. Don't forget to pay attention to your foundation. Optimizing your core digital execution will often provide a better ROI than experimenting (and becoming distracted) with every new tool.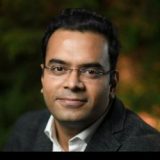 15+ years leading business operations and client management in the segments of digital marketing and CRM. Driven by test-driven development paradigms, and exceedingly collaborative across all disciplines (from stakeholders to product to design to development to users – and back again).
Hire the best Digital Marketing Company from Canada. Choose certified Digital Marketing Specialists from Propel Guru now.