Facebook started as a socially connecting platform for people worldwide, but as time passed, the platform transformed its algorithms to deliver the best user experience and help businesses grow. Currently, Facebook has the most extensive user base and is highly preferred by business marketers to grow their organization. 
Facebook continues to grow each year since it was launched in 2004, in terms of active users and time spent on the platform. The platform has nearly 2.7 active billion users. With such a significant number of users and knowing who's using the platform can make a difference while curating your business's perfect marketing strategy. 
Facebook is the first platform to introduce Ads and has set a benchmark for other social media platforms. Surfing on the widely used platform has become a part of our routine. Users scroll through the feed and do not notice the various ads running or the remarketing/retargeting implementations visible on the feed, stories, videos, and more. 
Why Is Facebook The Right Platform For Your Business? 
Other than frequent updates and the platform's evolving nature, it focuses on its users and marketers' growth. We don't need to tell you that mastering Facebook marketing is a must for any brand that hopes to take its business to new heights. 
Let's check out some facts here:
YouTube has 1.5 million active users per month.
Instagram has 700 million active users.
Twitter has 328 million monthly active users.
Snapchat has 255 million monthly active users. 
WeChat has 889 million active users per month.
93% of marketers use Facebook advertising regularly. It sums up to roughly 3 million marketers who focus on the organization's growth through Facebook marketing. 
Here are the seven best marketing tips that you can consider: 
1. Get A Vanity URL
First things first, you need to create a business page and not a personal profile. There are diverse ways by which you can optimize your business page. The first thing you'll want to do is grab a vanity URL. It helps you give an easy-to-read page link that you can post to promote your business on other platforms. It is better to use the business name for the vanity URL as it's your brand image, and users will be able t0 identify it quickly. 
2. Optimize Your Photos
The images on your business page play a crucial role in moving up your marketing strategies. You need to get some quality images on your profile. You can always use your organization's logo for your profile image. Also, focus on the right cover photo and can also use a CTA image for your cover photo to generate more clicks to your website. 
3. Go Live
Facebook live streaming is expanding at an unprecedented rate, giving businesses more chances to increase their success rate. You can easily reach a wider audience as it provides the information immediately. It helps create a better relationship with varied audiences and encourages a better level of engagement. 
4. User-Generated Content
Users trust other users who are familiar with your brand and can use it to increase credibility. You can create campaigns that focus on promoting user-generated content such as free giveaways, contests, and more. It boosts social media reach, growth, and increases personalization by establishing credibility as a thought leader. 
5. Facebook Page Insights To Analyze Content
You can curate and post videos as Facebook users watch over 100 million hours of video every day. Publishing quality content is a never-ending battle, but you also need to monitor your metrics to find trends in engagements to discover the content succeeding. Use the Facebook Page Insights analytics tool to analyze one-week performance. It will include page likes, post reach, and engagement. Analyze the content to deliver what your users want.  
6. Facebooks Ads
You must understand that organic posts aren't the only technique to grow your business. Using Facebook Ads is one sure way to skyrocket your brand awareness. You can set an ad campaign objective and narrow your audience in the Facebook Ads Manager to get more visits. You can also combine paid ads with your solid organic posting strategy to enhance your brand reach. 
7. Partner With Influencers
Influencer marketing is one of the best-known ways to escalate your brand online presence. It helps build trust, improves brand awareness, and enriches your content strategy. Influencer marketing helps you reach your target audience and provides terrific value to your audience, benefiting businesses struggling to gain traction in social media. 
Conclusion
Facebook is the best platform to market your brand as the platform collaboratively can help you build your brand over other subsidiary platforms. Try to create a multi-faceted approach to improve engagement and remember to optimize your content. Focus on the combination of organic reach and paid ads to surefire your posts and reach new heights. 
Are you looking for effective ways to increase your brand awareness and boost engagement on various social media channels? We at Propel Guru can help you nurture your brand's voice and supercharge your business's growth with flexible and affordable social media optimization services.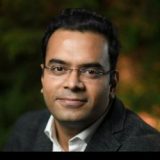 15+ years leading business operations and client management in the segments of digital marketing and CRM. Driven by test-driven development paradigms, and exceedingly collaborative across all disciplines (from stakeholders to product to design to development to users – and back again).
Hire the best Digital Marketing Company from Canada. Choose certified Digital Marketing Specialists from Propel Guru now.