Pipedrive is a comprehensive CRM built with one goal in mind: to help your company close more deals. It's one of the most user-friendly CRM Integration Services or Pardot Consulting systems on the market. It can get up and running in minutes and has a long list of capabilities to assist your sales force.
While you may spend more time in Pipedrive, it isn't the only place you work. Pipedrive's integration with other software ensures that your systems are constantly updated and saves your team time on manual activities such as data entering.
However, do you know that you can integrate Pipedrive with Zapier? So, how does Zapier work?
Zapier allows you to link your team's tools daily, such as Google Sheets, Slack, Facebook Lead Ads, and Intercom, to save time and decrease human errors, ensuring that nothing gets through the cracks in your sales process.
3 Unique Ways To Use Pipedrive And Zapier To Automate Your Lead Creation
Connect Your Ad Tools To The Leads Inbox Directly
You can already use Zapier to connect Pipedrive and your ad tools to build deals, contacts, companies, and more. You can now use Pipedrive to sync Facebook Lead Ads, Google Ads, and other ad tools to create new leads in the Lead Inbox or trigger actions in such tools whenever something happens in the Lead Inbox.
With this new integration option, you can effectively manage your leads so your sales pipeline doesn't load up with folks you haven't properly qualified yet.
When someone engages with your Facebook ad, you can use this Zap to create a prospect in the Leads Inbox instantly. Pipedrive's Lead Inbox is connected to over 60 ad tools via Zapier.
Reach Out To The Leads Automatically
You may use Zapier to create triggers that will send emails and texts to new leads within your Leads Inbox, allowing you to qualify and follow up with them more quickly. You can also use Zoho integration to reach out to prospects automatically and convert them into leads.
You may connect Pipedrive and Gmail, for example, to send new leads an introductory email automatically. Alternatively, if you've connected Pipedrive and Zapier, you can add fresh leads to your newsletter list.
You can even ensure that new leads are included in your nurturing flow, whether you're using Mailchimp or ActiveCampaign.
Pipedrive and Zapier may be used in various ways to automate your lead nurturing process and funnel the hottest prospects through your funnel.
Pipedrive's Lead Generation Toolset
You can also use Pipedrive's Workflow Automation functionality and add-ons to automate lead creation.
Pipedrive introduced a slew of new features last year to help you create more high-quality leads. The LeadBooster add-on now includes four valuable features:
Prospector

Chatbot

Web Forms

Live Chat
Also available is the Web Visitors add-on, which allows you to see which previously anonymous groups are viewing your website. Both these add-ons integrate seamlessly with Pipedrive's Leads Inbox, a new feature that will enable you to manage leads and target the most likely to be converted.
When you set up your LeadBooster Chatbot, choose "Leads" as the playbook's save location, and every new lead the Chatbot discovers will be delivered directly to your Leads Inbox.
You can accomplish the same thing with Web Forms so that everybody who fills out one of them is automatically put into your Leads Inbox.
Furthermore, when a lead is added, changed, or deleted in your Leads Inbox, Workflow Automation can immediately send an email or schedule an activity. You can also ensure that a lead is established when triggered, such as when a trade is won or lost.
How Do You Increase The Inflow Of Leads?
The best to nurture and get more leads is to conduct online surveys. A drive-by form or registration could provide you with some basic demographic information. However, that first point of contact is unlikely to reveal why a lead came to your site, their participation in a purchase decision, or the size of the sale at risk. You want to learn everything about your new lead to create a compelling customer experience.
Surveys enable you to move beyond the data collection phase of the lead-generating process and into nurturing and actual consumer involvement. You may use tools like Typeform and SurveyMonkey to create engaging discussions with existing leads, using videos, interactive animation, and branching logic to discover more about their individual needs.
And whether you're adding more data to a common spreadsheet or changing a track in a marketing automation platform, automation can help you send that rich, segmentable data wherever you need it.
When someone buys your product or service, they become a different kind of lead: a customer you want to keep for as long as possible. You can effortlessly nurture and sustain that relationship without all of the tedious labor of merging and massaging data by taking those purchasers and instantly turning them into qualified prospects in your sales software.
Conclusion
Using all of these technologies to automate your business will free up a significant amount of time. Not only will this improve operations, but it will also increase the amount of time you have to implement other improvements. Your firm will be working like a well-oiled machine in no time, and you'll notice greater profits from both the increased sales and the reduced expenses and effort on your team's side.
If you are looking for CRM Integration Services or Pardot Consulting to get more leads for your business, then reach out to Cloud Analogy today. Our team of experts will help you integrate various CRMs from Salesforce to Pipedrive.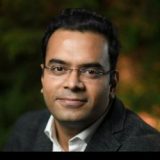 15+ years leading business operations and client management in the segments of digital marketing and CRM. Driven by test-driven development paradigms, and exceedingly collaborative across all disciplines (from stakeholders to product to design to development to users – and back again).
Hire the best Digital Marketing Company from Canada. Choose certified Digital Marketing Specialists from Propel Guru now.