We live in an era of digitalization where people are solely dependent on the internet. Let me explain how? 
Do you remember that every time you wish to explore a new place for dinner- the first thing you do is take out your mobile phones and check them on the web? Nowadays, people globally are adhered to the internet to find the best services and products. Being a business owner, you never ought to exhibit your brand's negative image on the web. To make sure of that, you need to take care of the negative reviews associated with your brand name. 
A decade ago, public relations and reputation management were concerns for big brands, and SMEs had little to care about. But today, it is entirely revamped as users can actively express their opinions about brands and services. Internet is the most powerful marketing tool that helps businesses build an effective digital presence; however, one negative feedback of a user can make all the brand-building efforts go in vain.
There are many misconceptions about ORM, as most businesses think it is social media monitoring or something related to public relations. But ORM brings much more to the table in today's business and media landscape. So, before diving into the benefits of ORM, let's exactly know what it is. 
What Is ORM? 
Online Reputation Management, AKA ORM, means how users perceive your business. It is the process of creating and managing the reputation of your brand in the online world. In layman's terms, the online reputation management team manages the information displayed after a user searches for your brand name. It also includes creating and using strategies to prevent and solve problems that could damage the brand's reputation. 
Now, as you have a brief idea about ORM, it's time to dive into the best practices to manage your business's online reputation. 
5 Best Practices To Successfully Manage Your Brand's Online Reputation
1. Conduct An Audit
Before getting started on creating strategies to improve your online reputation, conduct an extensive online reputation audit. The motive behind it is to uncover how people see you online and the diverse issues you encounter while comprehending that view. You have to perform brand monitoring that involves your website and social media channels. To conduct brand monitoring, you can use SEMrush's tool, which helps explicitly manage your online reputation.
2. Establish An ORM Strategy
After knowing your relevant niche's online landscape, it is crucial to set up an ORM strategy. ORM prioritization is of utmost importance as you cannot jump on every single mention. It becomes critical to consider a few factors that impact your decision, such as setting up your ORM goals, defining the boundaries and limitations, prioritizing tasks and your ORM. For this, you need to create a matrix from all the options available such as what comes most accessible to you, how much you can realistically do, your goals, and what will have the most significant impact.
3. Brand Mentions Are Important
Monitoring conversations are the best practices for getting a real-time view of your online presence and delivering a timely reaction. You can also use different tools to manage and monitor your brand mentions efficiently. Set up a campaign by entering your brand name, domain, choosing the target country, brand keywords to monitor the web for comments and resolve any negative mentions or references. With the help of tools, you can also schedule daily, weekly, monthly email reports.
4. Dominate SERPs For Brand Searches
For a successful ORM strategy to take place, you need to involve some SEO magic. The objective is to show up on the SERPs for your branded keywords. To achieve that, your business needs to have a website with high domain authority. Furthermore, optimize your social media channels as they appear within the top 10 for branded searches. Define your branded keywords and quickly check the search volumes for each branded keyword and negate the negative keywords. You can ask your loyal customers to drop a positive review to balance and increase your ratings. 
5. Encourage Positive Reviews Online
Unarguably, you have a mix of both negative and positive reviews for your brand that directly impact your business reputation and sales. However, a fact states that positive reviews offer 90% of buying decisions. Modern-age consumers heavily rely on online reviews, and Google's Algorithm downrank sites that deliver poor customer experience. Encourage positive reviews online by coming up with a more personal touch to your courtesy reply and acknowledge your customer reviews to show that you care and incentivize them to come back and leave more reviews. 
Conclusion
In the current scenario of growing businesses, online reputation management is equivalent to the quality/services. It helps companies of all kinds as it displays fortes that help create a name for themselves in challenging scenarios.
Want to stay up-to-date with digital marketing trends and enhance your digital marketing skills? Subscribe to our YouTube channel now to learn the core concepts of digital marketing from industry experts. Gain access to dozens of insightful and informative marketing and sales videos, including tips on improving marketing results, starting blog writing, and sales strategies and tactics.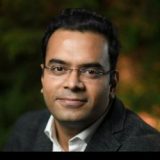 15+ years leading business operations and client management in the segments of digital marketing and CRM. Driven by test-driven development paradigms, and exceedingly collaborative across all disciplines (from stakeholders to product to design to development to users – and back again).
Hire the best Digital Marketing Company from Canada. Choose certified Digital Marketing Specialists from Propel Guru now.