No industry is more prepared to take advantage of the prospects in real-time marketing than the soccer sector. They post everything on social media, from the announcement of new kits and joyous cheers to smack talk, score projections, and statistics. The 2022 FIFA World Cup is just around the corner, and FIFA's marketing strategies are brewing a lot of interesting stories. 
As the sporting season ramps up, we want to commemorate the World Cup and provide you with inspiration as you prepare your upcoming marketing campaigns. Marketers are frantically aligning their calendars with the big event, and they are as interesting as it gets. Let us first see how FIFA bring out the real anticipation in people.
FIFA is no more an international football event. It is now an emotion that connects people without the bound of boundaries. There is so much that happens, from merch to media events. FIFA has some unique ways of creating a brand more than an event. Let's dissect the branding approach of FIFA first:
Products Do Not Define The Brand Entirely
Any brand that stands for the greater good and shows that customers hold a lot of gravity ends up winning hearts. A brand becomes different from the competition when they establish that they are not here to sell only products but to make a name. 
If we take a closer look, FIFA's print campaigns during COVID times impacted people's minds, copy stating, "Being out can change the game. To defeat COVID-19, stay in". Strong copy and even stronger depiction move people. 
Create an Engagement
No brand campaign can ever be successful if they are not find ways to communicate with its audience. Letting the customers have a say is a gutsy thing, but it makes them feel seen. Nowadays, people love Instagram, and brands love it even more because their ideas reach many people (if efforts are directed correctly). 
There's nothing new about it, but FIFA has been actively creating interactive stories on Instagram; here's a thing to notice. They follow their brand colour, signature fonts, recognizable template and visual elements that enable the audience to understand with just a glimpse what brand it is. 
Moments That Customers Look Forward To
There is one thing as posting regularly but giving your social media audience something that they will look forward to is a productive thing. Anticipation-building posts create a lot of excitement in the audience; you can add a countdown, announce the deal and later reveal something big.
In the case of FIFA, the 2022 games are all set to happen in November, but they have already started talking about the 2026 World Cup. In their post, they asked the audience if they could think of the city where the next FIFA World Cup would happen.
The Power of Nostalgia
It is a thing, and it is a huge one. If you have ever been able to create a nostalgic feeling in the minds of your audience, you have probably done something right. Hold on to the strategy and come up with posts time and again. 
FIFA has been able to cash on this idea as they post snippets about past events in a way that inform the audience that they have been missing out on other matches. Nostalgia has its taste, and FIFA hits the cord with that. It is not only about the Videos or the picture they post; their captions also want to make you feel something. 
Now that you have seen how FIFA does it, it's time for you to hit the GOAL with strategies.
How to Execute a Winning FIFA Campaign?
This is the question that every marketer is asking right now, and we're here to answer it! Let's divide this campaign into three segments – Before World Cup, During World Cup and 
After World Cup. Have a look below to understand the details:
Before World Cup
Start from the basic, which is setting up your calendar. That's an obvious thing to say but aligning all the matches and the match time while an important marketing event is a key. Also, keep space for real-time updates you will witness because there are breathless moments in the game. Moreover, start creating a calendar that focuses on the game's opening and allows you to create anticipation. Let's say you can put some old videos, start asking questions to the audience etc. 
During the World Cup
Now that the match has begun start optimizing each message with personalized content. Create some urgency and start posting real-time moments, make memes, be creative or we should say be on your toes. It will reap some outstanding results. 
If you can find some real-time facts about the match or any player, be out about it but verify the news first. As much as the audiences are interested in the game, they are also interested in knowing things outside the court. 
After the World Cup
The World Cup is over, so the excitement is low but not at times low. There is still something that you can serve the audience. You understood the target audience already and were interested in your content; it clearly defines that now is the perfect time to retain them. Keep the momentum going, and do not miss out on peak events. There are two World Cups and two Euro tournaments under the belt. Why waste the opportunity? Retention rather than acquisition that's what the aim should be. 
Don't worry; there is still a lot of time to tweak your marketing plan, and yes, this is just the first post of many World Cups that you will be creating. 
Want to boost your online business presence with social media optimization strategies? Get in touch with Propel Guru's team of Social Media Marketing Consultant experts who will effectively promote your business on one or any social media platform and craft a robust strategy for your business growth.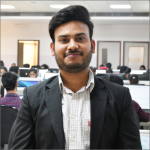 Senior Project Delivery Manager
A passionate and enthusiastic senior digital marketing and sales specialist who is highly proficient in planning, implementing, managing the entire business-to-business sales and marketing process for selling the company's advertising products and services. Having rich expertise and in-depth domain knowledge in the field of both sales and digital marketing, he ensures that he has a confident and winning attitude even during challenging business interactions.