Nowadays, social media has become increasingly important for connecting with the right audience and has become an indispensable part of our lives. It all started with connecting with family and friends and finally marketing the business to connect with prospects and develop strategies. This is because it seems convenient too that every generation is committed to using social media today. Therefore, it seems a wise decision to advertise on social media. 
As for all time, social media is changing again, and the positive news is that none of them requires scratch to make their social media presence. Today, it is essential for marketers to stay ahead of the streamlined social media. Using the right tools means choking out the strategy wisely to get the most out of social media marketing.
Today, the way people use the information to search online is changing. As with Google and Amazon Echo home devices, people are now searching for information via voice search.
Here are the top social media marketing trends, which we need to be aware of before stepping into a new year:
1. Influencer Marketing– It is like word of mouth and is widely used in practice today. Brands today hire and pay famous online personalities with a maximum number of followers to promote their products. While practicing the same, you should use hashtags to search for these people.
2. Social Media for Customer Service– If customers are not satisfied with what you have to offer, everything goes in vain. Therefore, it is crucial to provide excellent customer service to ensure the best possible user experience. With social media's help, this has become easy as the customer reviews are visible to all. While the best communication methods are calls and email, social media is a comfortable form of interaction. One of the best ways to do this is by following the hashtags used for your brand and conversations on Facebook, Instagram, and Twitter about your brand.
3. Use of Stories– Instagram and Snapchat provide the best platforms to add stories to their media with the best user experience. They differ from regular posting as they are temporary. With the records of January 2019, it's known that there are approximately 500 million Instagram story users every day, 60% of whom are marketers. Some have already started the same thing, while others are planning to start. 45% of all the ads spent on Instagram are in the form of stories. 
4. Rise of Alternative Platform- Platforms like Facebook, Instagram, and Twitter are widely used by Business to Consumer companies. Even TikTok had over 500 million users, although it has been debarred recently. Another platform is Pinterest, which has also become very trendy in the recent past. Even there is a higher number of ad returns on Pinterest as compared to other platforms. 
5. Augmented Reality– Impressive customer experience is gained through augmented reality, as it blends digital and physical elements. One of the best examples is the Snapchat filter. Another example is Arloops, with which we can place and visualize virtual impressions such as furniture, cars, and similar things.
6. Advanced, Dynamic, and Direct Social Media Ads- Nowadays, consumers are becoming more flexible using social shopping in general, as brands invest a lot in social media ads for good reasons. It is getting easier for brands to advertise on social media and attract customers. Even Instagram has started with direct social selling, which is liked by the public. 
7. Stories Aren't Slowing Down– Stories have been the most significant social media trend, such as Instagram and even Facebook, which has recently started with their story feature. They have up to 500 million users who use these features every day. Instagram brings unique stories with distinct characteristics, making their customers go through it time and again. It becomes a 'must-see' item on Instagram. 
8. Booming of Video Content– One of the most shared content shared on social media is videos, long or short. YouTube stands the second posting to Facebook as compared based on their active users. Although Instagram is believed to have the most influential faces, the fact is that YouTube has most of them and cannot be replaced. However, Instagram is trying to reach the top by presenting IGTV videos, which allow videos to be posted in landscape mode.
9. Audience Integration in Content Strategy– Now, brands need to connect with their potential customers to get the most out of them. It's essential to be consistent with your customers to let them know they have some rights in the brand they are interested in buying or are engaged with. Today's customers want to participate in the brands they buy the product from. So if you encourage them to do something for their brand, they will be happy and stay in touch with the brand.
10. Performance Data are Accountable by Marketers- 63% of marketers regularly create graphic reports on social media to show their boss. Once you can show your presence on social media, it means that you have been involved and carried out activities that increase your visibility on social media.
You could say that only a few social media marketing trends have dominated in 2020 and will continue until 2021. This has been proven with the massive impact on users on social media as well as the brands. Moreover, if you want your brand to succeed, then there are no second thoughts on giving your brand a social media platform. 
Are you looking for expert guidance on how to improve your social media presence?  Get in touch with the Propel Guru team of social media strategists who would build a plan tailored to your company and help you take your social media marketing game to the next level.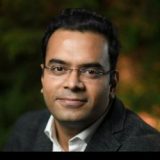 15+ years leading business operations and client management in the segments of digital marketing and CRM. Driven by test-driven development paradigms, and exceedingly collaborative across all disciplines (from stakeholders to product to design to development to users – and back again).
Hire the best Digital Marketing Company from Canada. Choose certified Digital Marketing Specialists from Propel Guru now.